COURSES OFFERED
NAME OF THE COURSE :
Presently the College offers undergraduate Three Year Degree Course (TDC) in Arts stream (B.A in both Pass and Honours) governed by the rules and regulations of Assam University, Silchar.
MEDIUM OF INSTRUCTION : English
DURATION OF COURSE : 6 Semesters (6 months in each semester & total duration of the course is of 03 years)
SUBJECTS OFFERED :
General Subjects (Compulsory for all students for both Pass and Honours)
I. General English (For 1st and 2nd Semester)
II. MIL (For 3rd and 4th Semester)
III. Foundation Courses in Environmental Studies-FCES (For 5th and 6th semester)
STUDENTS OF PASS COURSE CAN CHOOSE ANY THREE ELECTIVE SUBJECTS FROM THE FOLLOWING :
(I) Economics (II) Political Science (III) History (IV) Philosophy (v) Arabic (VI) Elective Manipuri
(VII) Elective Bengali
(NOTE: COMBINATION OF TWO ELECTIVE LANGUAGE SUBJECTS IS NOT ALLOWED)
STUDENTS OF HONOURS COURSE CAN CHOOSE ANY ONE FROM THE FOLLOWING SUBJECTS :
(I) Bengali (II) Economics (III) Political Science
STRUCTURE OF SEMESTERWISE SUBJECTS OFFERD IN COLLEGE :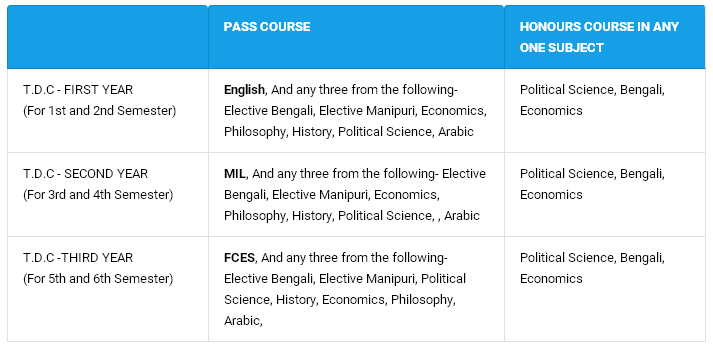 DROPPING OF HONOURS :
Dropping of Honours may be allowed latest by one month of regular admission of 3rd Semester. One must have to clear the respective Pass Paper (s) of the corresponding Honours Subjects as the back paper (s).
Change of Honours Subject/Group shall not be allowed after 1st semester classes or after the TDC 1st semester examination is over.